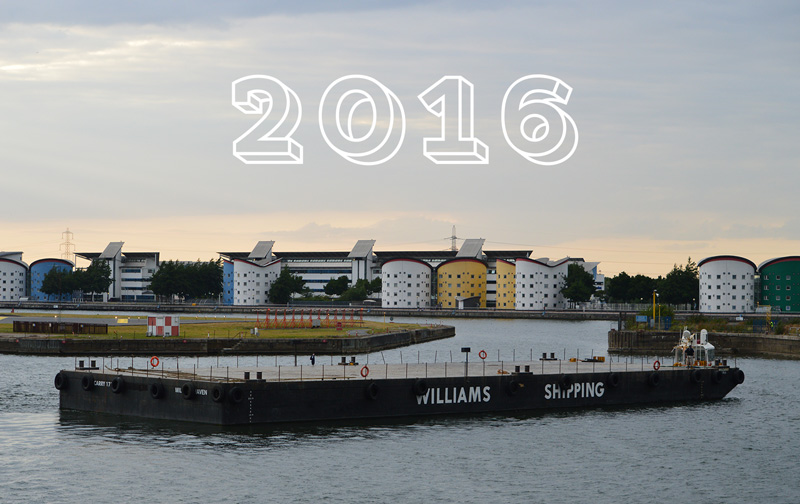 20th December 2016
2016: a year of firsts, launches & historical happenings
There's no denying 2016 has been a year to remember, particularly for the Williams Shipping team who have witnessed a variety of interesting, important and in some cases outrageous projects…

Plane sailing: transporting a Boeing 767 over water
Williams Shipping was involved in one of the most interesting marine logistics projects witnessed this year. A decommissioned Boeing 767 was transported by sea from Shannon Airport to a quirky glamping site in Enniscrone.
Watch the incredible footage to learn more: http://wilshp.uk/2hL4xol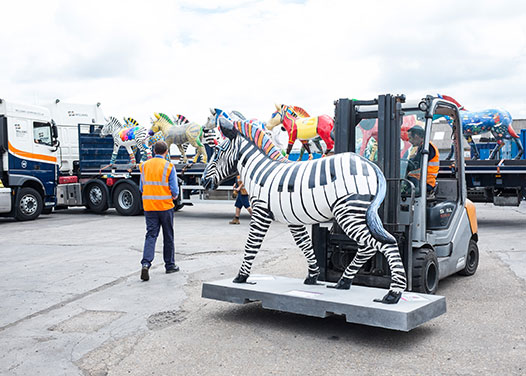 Marwell's Zany Zebras Parade in Southampton
As the official transport and logistics partner for Marwell's Zany Zebras 2016, the team at Williams Shipping looked after 47 life-size painted sculptures in aid of the charity art project and parade. The zebra sculptures rolled through Southampton city centre on Tuesday 12th July, followed by an exhibition across the city. Learn more: http://wilshp.uk/2hhRt95

Cargo operation in full swing with £250k investment
Williams Shipping has bought a powerful reach stacker and developed a new one-acre cargo handling yard for its logistics division as part of a £250,000 investment. Cargo handling and transport is a major growth area, and this investment will open up new employment opportunities and support the maritime & logistics sector.
Learn more: http://wilshp.uk/2ctms1o

Red Jet 6 pre-launch
Red Jet 6, the latest addition to the Red Funnel fleet, was revealed on Wednesday 25th May as part of a large marine logistics operation in the solent. Williams Shipping was responsible for supplying a barge and tug boat to move the vessel from East Cowes on the Isle of Wight to Southampton docks.
Learn more: http://wilshp.uk/1U99uBM

London's burning…on a Williams Shipping barge!
Working in conjunction with the Artichoke Trust, a giant wooden replica of 17th century London was set ablaze on the River Thames in a retelling of the Great Fire of London. The Wilcarry 1711 barge was chartered for the project, providing a sturdy and fire-proof base for the wooden structure. On the 4th September, the replica model was set on fire!
Learn more: http://wilshp.uk/2c8JME0

Container delivery at prestigious restoration site
A landmark building was undergoing restoration works in central London, and the restoration team required site storage & accommodation for its staff. Willbox supplied three 20′ containers; a stacked pair of site cabins and a storage container.
Watch the time-lapse video to see the off-load: http://wilshp.uk/2dCJBzM

Marine lubricants online shop launched
Williams Shipping has launched a new online store for its growing marine lubricants service, providing a new platform for both new and existing customers to buy online. As an authorised distributor for Castrol, Williams Shipping customers can now purchase a broad range of marine lubricants and chemicals directly from the e-commerce website: http://wilshp.uk/2hLg0nU
Housekeeping
Williams Shipping has gained a 'shop window' with companies in the utilities sector by joining Achilles UVDB – an online community that enables companies to manage supply chain risk and comply with EU regulations.
Willbox is proud to announce the launch of a new third party review platform to build upon a solid reputation as the UK's favourite supplier of shipping containers. Asking for customer reviews helps to build confidence in our brand.
Since 1894, Williams Shipping has provided marine & logistics services to clients in a wide range of market sectors. Explore a selection of client case studies which demonstrate the breadth of support services available at Williams Shipping.