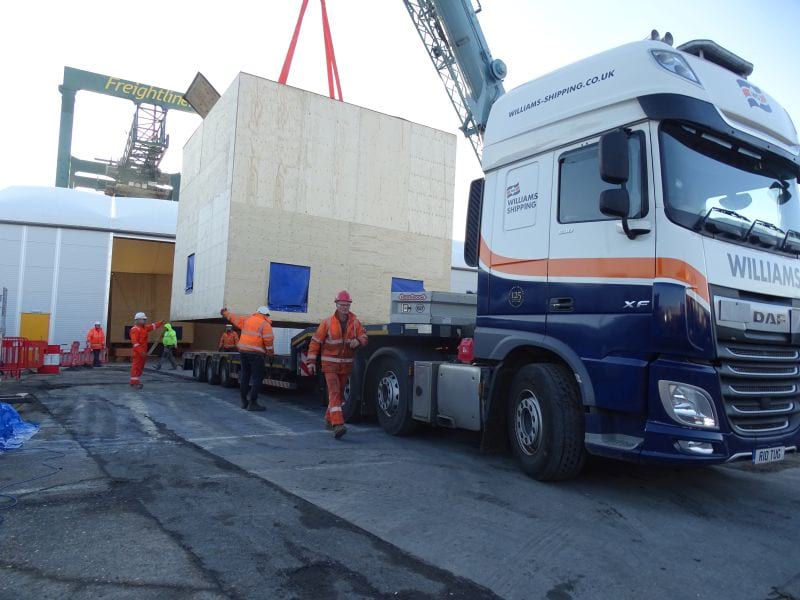 23rd December 2020
Major expansion in Williams Shipping storage facility at Southampton Docks
Williams Shipping opened an innovative 1,000m² warehouse this month, providing extra capacity at their existing storage and warehousing facility by the docks in Millbrook, Southampton.
First loads enter new pristine warehouse
This large new storage facility provides enclosed warehousing for long or short-term storage with or without racking, supplying a diverse range of regular and abnormal storage solutions for marine and freight services in Southampton.
The first deliveries to the new warehouse included two 40 tonne motors each measuring 5.5m wide, skillfully manoeuvred into place by the Williams Shipping logistics team.

Extensive racking is also available at the new facility, where deliveries have already been made for storage among over 200 racking spaces.
Bespoke warehouse solution
Williams Shipping designed the new warehouse with HTS taking advantage of modular construction techniques to configure the space to best suit the storage needs of commercial customers in and around Southampton Docks.
"We are delighted that this innovative design allowed us to build insulated storage capacity quickly in response to our customer demand," says Jonathan Williams, Managing Director at Williams Shipping. "Our new warehouse is clean and secure, giving us first class additional capacity at this crucial time."
The new warehouse benefits from the high security standards maintained at all Williams Shipping sites, including CCTV and alarm systems, meaning that customers can safely leave goods and stock for long or short-term storage.                                                          
Strategic storage location gives easy access to Southampton Port
Williams Shipping continues to invest in its logistics and storage facilities next to ABP operated Southampton Docks, offering easy access for marine and freight services to both the docks and the M27/M3 motorways. It is ideally located for any business looking to store goods for distribution throughout the UK and to all major ports.
With extensive experience in marine services, haulage and logistics, Williams Shipping runs a smooth and efficient storage operation, providing expert handling and specialist equipment as required.
For more information please call 023 8052 9555 or email transport@williams-shipping.co.uk.