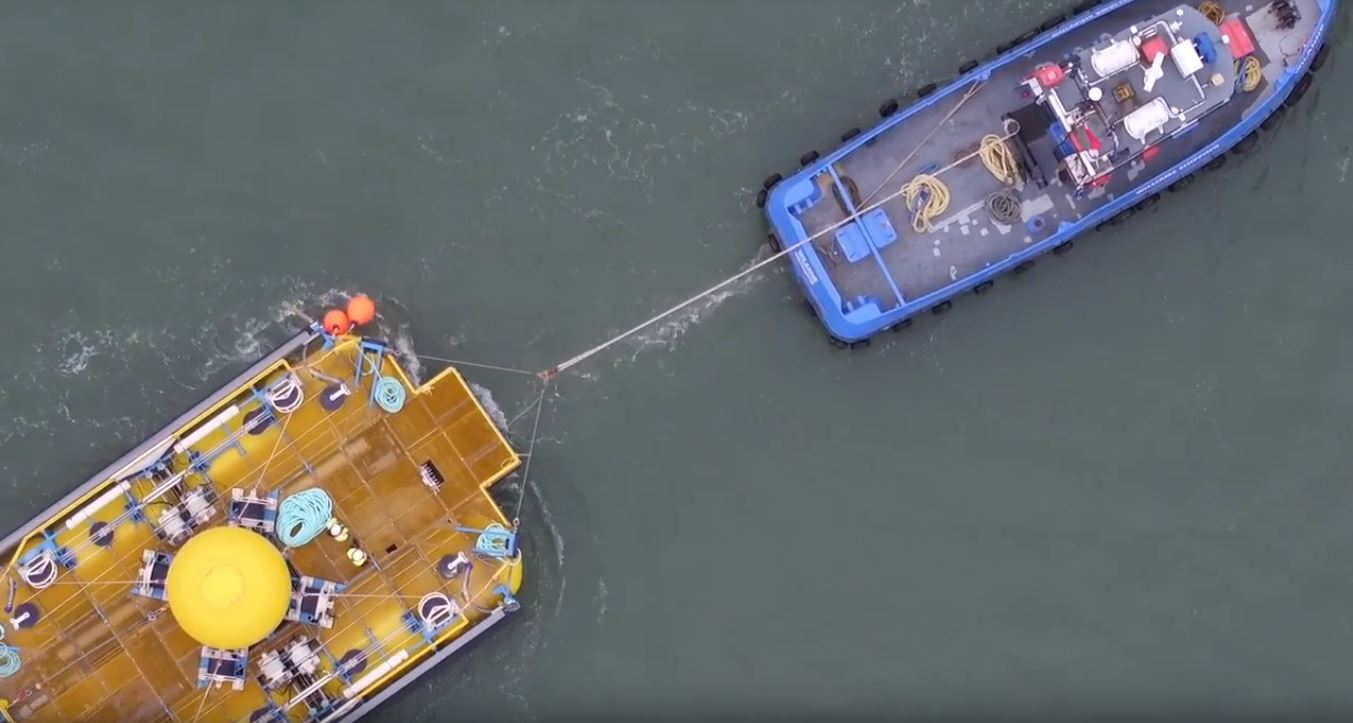 7th February 2018
Towing WaveSub for sea trials
Assisting UK marine technology development company Marine Power Systems (MPS), we provided towage for their wave energy device, the WaveSub, from Waterloo Quay to Milford Docks, where it awaits further tests and trials. The specific construction of the device meant careful towage at no more than 2 knots, which was provided by Wilanne with 3 crew members on board. Wiltango assisted once in the Docks.
Summary of the WaveSub & plans for it's next stages
UK marine technology development company Marine Power Systems (MPS) has successfully launched its wave energy device the WaveSub onto open water, marking the start of a new phase of sea-based testing for the device. The 1:4 scale prototype of the WaveSub wave energy converter was launched in Milford Haven and has already completed the first steps of an initial phase of testing by successfully demonstrating its ability to be easily towed and safely accessed whilst in its surface configuration.
Developed with support from organisations including the Welsh Government and European Regional Development Fund (ERDF), the WaveSub is a wave energy device designed to generate electricity by harnessing energy from the continual orbital motion of waves under the surface of the sea. This move into initial sea-based tests follows on from an unveiling of the WaveSub at Pembroke Dock in late 2017.
Prior to its launch, the WaveSub underwent a full suite of land-based commissioning tests which form a structured programme of verification to confirm the WaveSub's suitability to progress to intensive testing at sea. Commenting on the initial results, Dr Graham Foster, Chief Technical Officer at MPS said: "The positive results from initial sea-based tests for the WaveSub are hugely encouraging for the MPS team. We hope to move through the remainder of this phase of testing with similar success before moving into tests which can confirm the operational ability and energy generational capacity of the WaveSub device in open sea conditions."
Following the completion of tests in Milford Haven, the WaveSub will be towed to the award-winning marine test site FaBTest in Cornwall, England. Here, MPS will demonstrate the WaveSub's power-generation capacity across a broad range of sea states, the rapid installation methodology, its ease of maintenance and its survivability through the harshest of sea conditions. Results will enable MPS to move ahead with its long-term plan to build a full-scale, grid connected WaveSub by 2020.
Said Marine Power Systems CEO Dr Gareth Stockman: "Embarking on this new, sea-based phase of testing for the WaveSub is an important step for MPS. We are convinced of the huge potential that ocean energy offers the UK and the rest of the world and remain focused on our long term ambition to achieve this through the commercialisation of full-scale, grid connected WaveSub devices."
Source: Press Release of WaveSub by MPS 24th January 2018