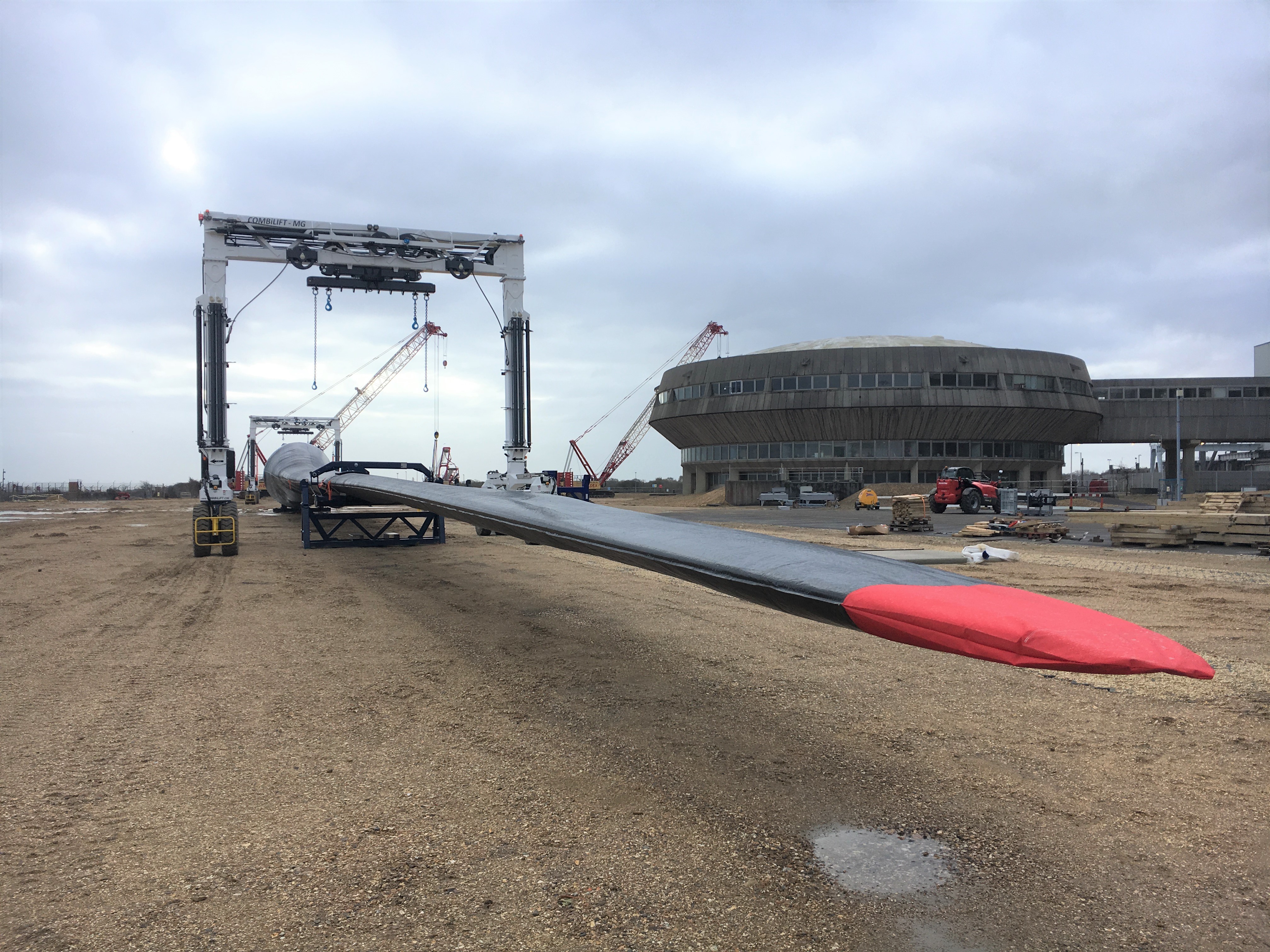 23rd April 2018
Williams Shipping Begins Turbine Blade Contract for MHI Vestas
Williams Shipping is pleased to have started working on a contract to transport 82m offshore wind turbine blades for Isle of Wight-based wind energy specialists MHI Vestas.
Turbine production in the UK
MHI Vestas is a joint venture between Mitsubishi Heavy Industries and Vestas Wind Systems. Their V164 offshore wind turbines are amongst the world's most powerful, with a nameplate capacity of up to 9.5 megawatts. Blades have been manufactured at their facility on the Isle of Wight since 2015, with serial production commencing in 2017. The facility is expected to produce around 150 blades per year.
In 2017 MHI Vestas announced plans to re-purpose part of a decommissioned power plant in Fawley, near Southampton, into a state-of-the-art painting and logistics facility for the blades.
Handling oversized loads
Moving and handling these immense items presents some unique challenges. At 82m long the blades cannot be transported by road and are instead transported by barge, from the Isle of Wight, to the painting facility, and then on to international docks for shipping overseas.
To carry out this task, a special design of blade transport barge was created. Self-powered, these 76m barges are designed to work in the shallow waters around the Solent, with an unloaded draught of 0.65m and a loaded draft of just 0.75m.
As well as managing operation of the vessels, Williams will also be managing the stevedoring with cranes installed at local sites on the Isle of Wight, Fawley and Portsmouth Docks.
Winning the contract
As well as general marine expertise, Williams has significant experience with offshore and coastal energy companies, including wind energy. It was invited to tender for the contract in late 2017 and the contract was awarded early in 2018. The blade transport barge was delivered to Williams' marine base at Southampton Dock Gate 4 in early April. Williams has also positioned cranes and site offices at each site to manage the stevedoring.
An historic return
For Williams, the project also has a more personal element. When the company was founded in 1894 it provided small-scale shipping services to the south coast and Isle of Wight from its base in Fawley. Williams is still a family-run business, with its directors a mix of fourth and fifth generation descendants of the original owner George Williams. However it relocated to Southampton in the early 20th century.
Philip Williams, Director of Marine at Williams Shipping commented,
"We're really pleased to get started on this contract. We have spent some time getting all the equipment and people set up and the arrival of the blade barges was the final stage. MHI Vestas' ongoing investment has been great for the area and we are glad we can play a part in building the wind energy industry on the south coast."
Vestas V164 turbines are used in a number of offshore wind farms around the world including Burbo Bank, off the coast of Liverpool. The blade running contract runs for two years initially, but is expected to be ongoing.
More information
Energy and power solutions from Williams Shipping