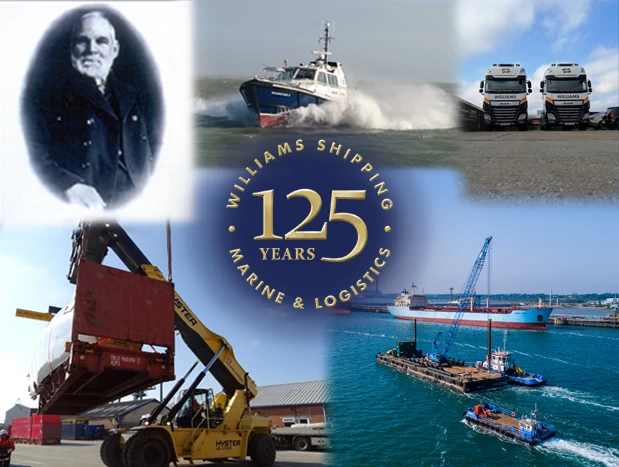 5th March 2019
Williams Shipping celebrates 125th anniversary
In 2019 we are celebrating a remarkable achievement – our 125th anniversary.
In 1894 New Forest farmer, George Williams, bought a boat at auction and converted it into a sailing barge. With this vessel, "Spec", he began a business transporting cargoes such as bricks and coal.
A Maritime Heritage
Since then, Williams Shipping's vessels have remained a constant presence along the south coast. George's first boats were powered only by sail; today the Marine Services division operates a modern and highly maintained fleet of workboats, barges, passenger launches, crawler cranes and other marine equipment. In addition we offer a wide range of marine services including commercial towage, support for marine surveys, passenger/crew transfer and vessel chartering. We continue to transport oversized and overweight cargo by water and road.
With such a long history in the area, it's no surprise that Williams has worked with many familiar local and international names. We provide berthing and crew transfers for Red Funnel ferries, support dredging and marine civils projects with Boskalis Westminster and charter vessels and transporting equipment for BAM Nuttall. We've towed the floating bridge to Cowes, helped repair Nab Tower and supported the dredging of Portsmouth Harbour. In 2018 we began work transporting offshore wind turbine blades for MHI Vestas, transporting them on a purpose-built barge between the factory in Cowes, the painting facility in Fawley, and Portsmouth Harbour.
In 2004 Williams entered into joint venture with Milford Haven Port Authority. Milford Haven is the UK's largest energy port and an important shipping gateway, and from here we are able to support a range of ferries, shipping lines, energy companies and other marine activities in Wales, the South West and Ireland.
Strong Links with the Oil Industry
In the 1950s, we also began to handle deliveries of marine lubricants direct to vessels on behalf of several large petrochemical companies. The AGWI oil refinery in Fawley, which later became the Esso Refinery, has had a huge impact on the Hampshire economy. Since its construction Williams Shipping has served both the refinery itself and the tankers that came into port, providing services including bunkering, crew transfers and stores deliveries.
Initially marine lubricant delivery was carried out on a distribution-only basis, but as the manufacturers began to shift focus to larger companies, Williams was invited to manage both the supply and the sales of marine lubricants for smaller companies. Today Williams Marine Lubricants is a rapidly expanding part of the business with a unique mix of marine expertise and transport capabilities. We are able to deliver marine lubricants and greases by road to anywhere in the UK and Europe, and additionally can deliver over water in Southampton, Portsmouth and Pembroke.
In 2018 we won a new distribution contract for Scotland and hired new staff for our Aberdeen office. The Lubricants team ended 2018 on a high note, with the addition of a 200,000 litres/year contract confirmed in December.
Road Transport
In the second half of the twentieth century, Williams developed land transport capabilities to support our marine activities. The first lorry was purchased in 1933 but it was in the 1960s that our road transport division really began to take off. With several large contracts secured for agriculture companies based in Hampshire, the road fleet was able to expand and eventually become a division in its own right.
Today Williams Shipping's Transport division specialises in abnormal loads and project moves, but also operates a general haulage service running across the UK and Europe. As well as general purpose trucks and trailers, we have 10 specialist trailers and 4 heavy-haulage tractors. These are often used for transporting fabricated metalwork, civil engineering projects and marine equipment. In 2019 we are looking forward to taking delivery of a super-heavy truck and trailer, which will enable us to run at 150 tonnes.
Handling the Port of Southampton's Cargo
In 1947 Williams relocated into the city of Southampton, with offices and warehousing on the Town Quay. In 1987 we moved again. Marine activities relocated to the Eastern Docks, while our headquarters settled in Millbrook, next to DP World's container terminal at Dock Gate 20. With a combination of our road transport capabilities, cargo moving experience, yard / warehouse space and a perfect location, we found demand for services relating to in and outbound cargo, including consolidation, bonded storage, lashing and devanning.
Subsequently, our Cargo Handling division has gone from strength to strength. In 2016 we undertook a major project to resurface a large part of our yard and purchase a reach stacker, creating a new open work area and making it easier to handle containers and larger cargoes. We now provide a range of services for freight forwarders, ships agents, shipping lines, and other companies moving cargo through Southampton.
One of our most exciting projects in 2018 was storing and consolidating building materials destined for Rothera Research Station in the Antarctic, where they will be used to construct a new wharf for the RSS David Attenborough. We also provided storage and transport for a series of 52 tonne generators en route to the Falklands Isles.
Containers for Shipping, Storage, and Everything Else
Williams Shipping Containers Ltd became a company in its own right in 2000. In 2007 the wholly owned subsidiary was rebranded into Willbox. Willbox provides shipping containers for transport and storage, as well as containerised site accommodation products such as site offices, mess rooms, toilets and drying rooms.
The potential for shipping containers to be used as building blocks for offices, art galleries, hydroponic farms or even houses is increasingly attracting the public's imagination, and Willbox maintains an in-house customization team to enable customers to reconfigure containers for other purposes. Shipping containers are also frequently used for self-storage sites, and we work with a number of companies to provide consultancy and setup services as well as containers and equipment.
By the end of 2018 Willbox had over 3000 units on hire, operating from 20 depots nationwide. In 2019 we are looking forward to relocating the Willbox team to new, larger premises on the outskirts of Southampton.
Investing in the future
125 years ago, George Williams converted a Royal Navy longboat into a barge. In 2019, the company has a fleet of more than 26 marine vessels and barges, 18 trucks, and employs over 100 people across the country. It is still family run and still headquartered in Hampshire, growing with and supporting the expansion of Southampton as one of the UK's premier ports. The blue and orange flag has become a familiar sight across the region and the UK.
As we continue to invest and expand into 2019 we are determined to retain the qualities that our customers, staff and suppliers expect from us – reliability, expertise and dedication to customer service.