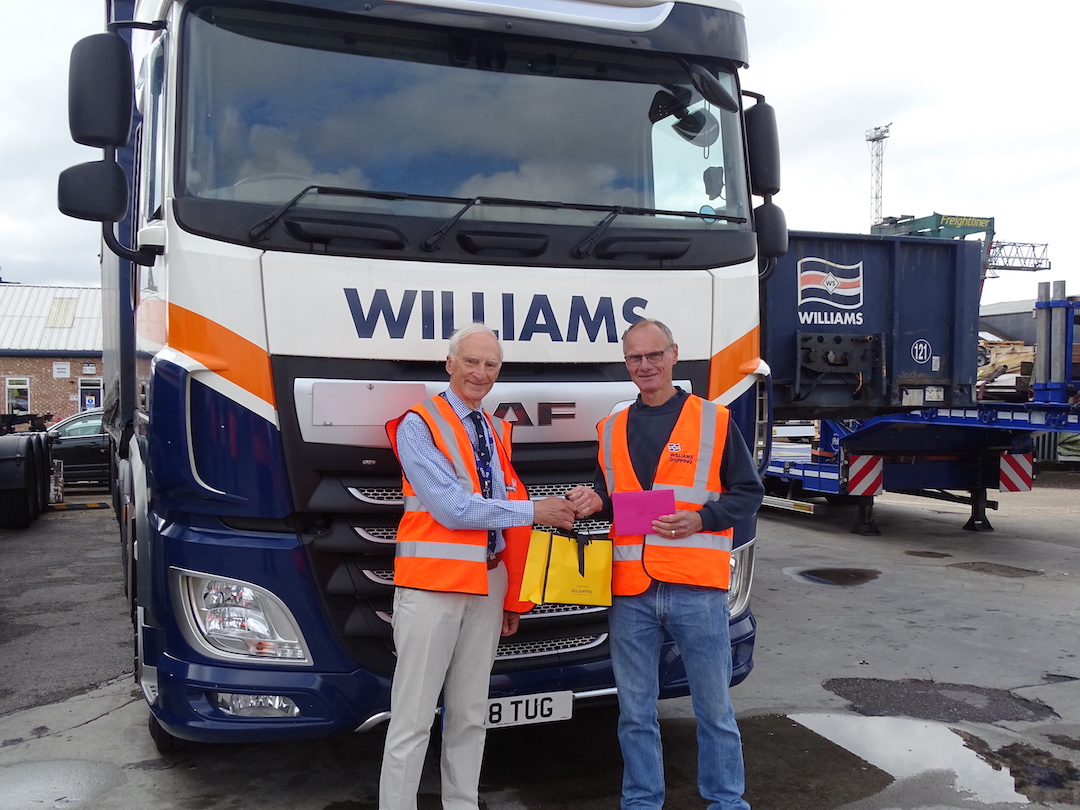 23rd June 2021
Williams Shipping celebrates Tony's sterling service
LGV driver Tony Willis has driven Williams Shipping trucks for 25 years. "I love my job", he says simply, delighted with his presentation watch and passionate to continue doing the work that brings him pleasure and interest every day.
A friendly, family business
Tony joined Williams Shipping on 20 May 1996, inspired by a close friend who already worked at the transport yard in Millbrook. "The company was much smaller then," recalls Tony, "but although it has grown significantly over the years, Williams Shipping remains a family business and from the Chairman down everyone is really friendly."
Comfortable, well-serviced trucks
Drivers are often required to spend the night in their cabs, as deliveries abroad can extend to up to 12 days at a time. Having started driving HGVs in the 1970s, Tony has experienced many changes in their comfort and safety. "Cabs are almost luxurious now," he laughs. "Williams Shipping's trucks are well-equipped, spacious and comfortable, and the company is very hot on dealing with any mechanical problems immediately as safety is a priority."
A challenging and interesting job
It is clear that Tony relishes the challenges of his role, with loads and destinations varying from day to day. He has travelled across Europe many times, particularly to Italy where he transported ships spares to a global marine company laying undersea cables.
Life as a truck driver can be full of surprises, and on many occasions Tony has been called to take a trip abroad at short notice. "Once I was out walking with my wife and got a call asking if I could catch the ferry that afternoon from Portsmouth with some colleagues, for an emergency response job to Gibraltar. It was close, but we made it!"
But it is the loads themselves that provide daily stimulation, even now that he has restricted his work to more local trips. "It is really challenging to carry big loads; working out how to secure them safely and manage the loading and unloading – my favourites have been a double-decker bus, a helicopter and boats," says Tony. "I find it really rewarding to deal with the issues and complete a successful delivery."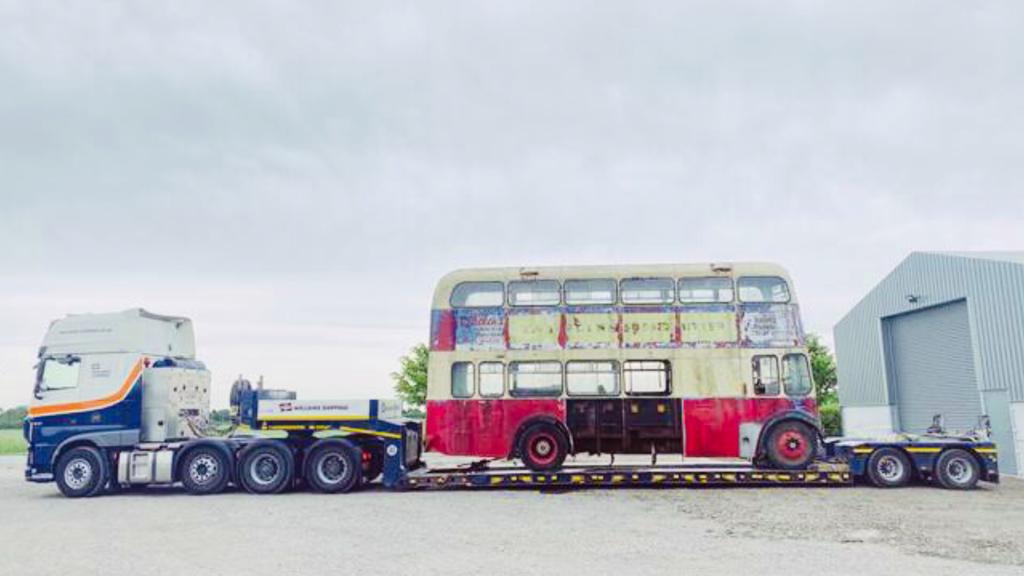 Valuable experience
Tony's 25 years at Williams Shipping have given him a wealth of experience, which he has always been happy to share with other drivers. The company offers training for drivers as they progress, but there is nothing like practical experience to teach you how best to sheet down a load.
Tony is a huge asset to our haulage team. His enthusiasm and commitment have helped build Williams Shipping into the friendly and successful business it is today. I am delighted that he is staying with us and continuing to share his expertise.
Eric Williams, Chairman
Showing our appreciation
Williams Shipping knows that drivers' work patterns can be disruptive to family life, and try to avoid keeping them away from home at difficult times. "What touched me most about the celebration of my 25 year anniversary at Williams Shipping was that they thought to send a bouquet to my wife," says Tony. "Caring details like that are what make me so loyal to this family business."
Thank you for your loyalty and long service, Tony. We look forward to working with you for many enjoyable years to come!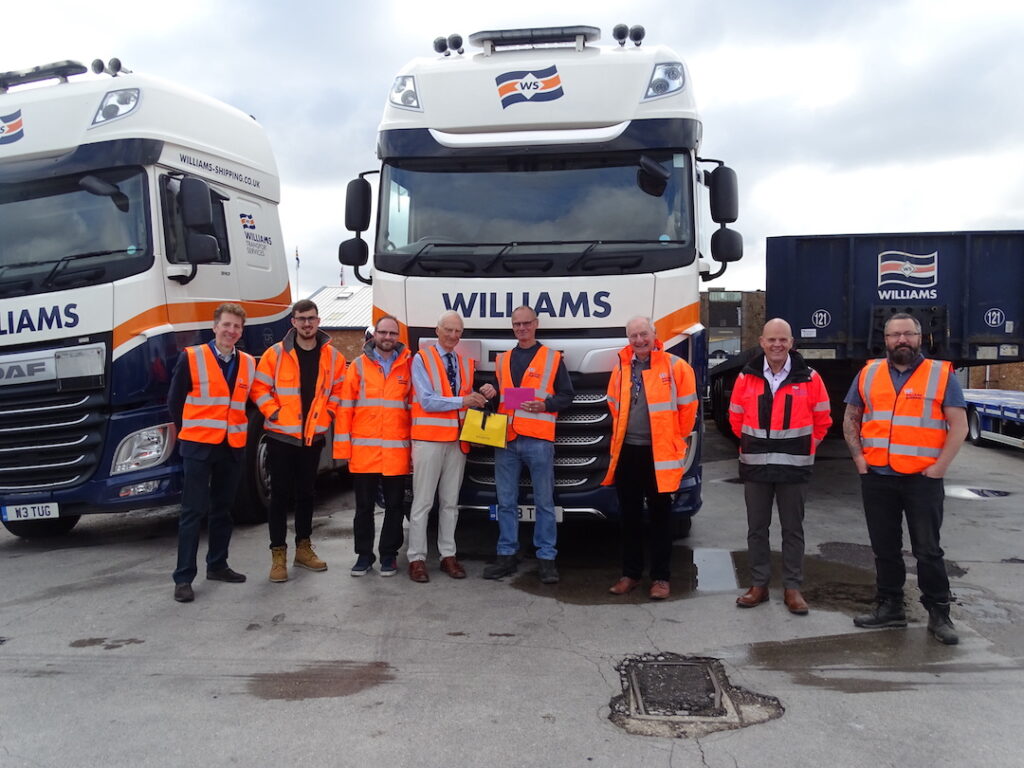 Contact Williams Shipping to find out more by calling 023 8070 1314 or email transport@williams-shipping.co.uk.
Williams Shipping assists the UK's marine industries with a broad range of services including towage, craneage, stores deliveries, equipment hire and crew transfer. We operate a fleet of 27 workboats, launches and barges, including dedicated wind turbine blade vessels. From our headquarters in Southampton and bases in Milford Haven and Aberdeen we provide specialist services and expertise to the transport, marine, construction, engineering, defence, renewable energy and shipping industries.