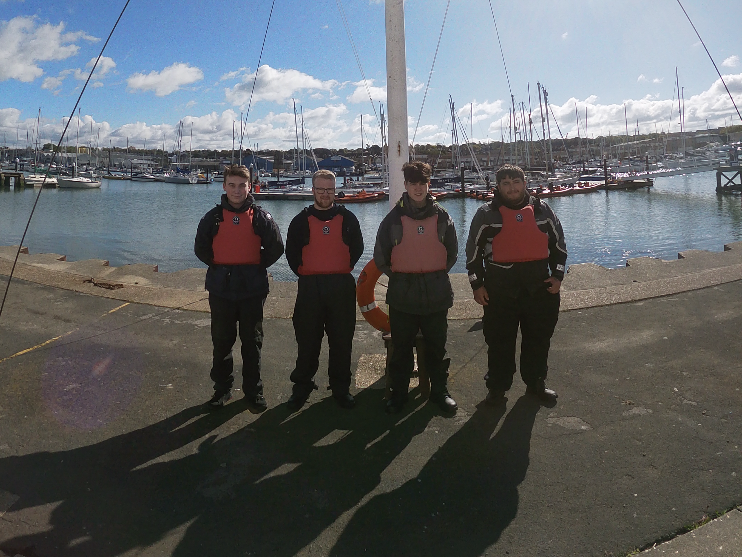 17th May 2021
Williams Shipping welcomes new apprentices
We are pleased to welcome two new marine apprentices to our Pembroke operations. Jamie Gainfort and Osian Lewis started at the beginning of May and will share their time between coursework and hands-on experience at our Pembroke site for 18-24 months.
Level 3 Workboat Crew Member Apprenticeships
Both Jamie and Osian are excited to be starting out on their new careers with Williams Shipping through this scheme, which offers specialist training combined with practical experience, and the prospect of employment with this highly professional marine company.
Workboat crew typically form part of a small, skilled team of 2 – 4, working on a wide variety of specialist vessels including tugs, multicats, stores vessels, pilot boats and crew transfer vessels. Williams Shipping's workboats provide a range of services on the Haven and its approaches, including towing; transferring personnel to ships or installations offshore; survey work; dive support and assistance; civil engineering support; safety boats and marine support for the construction, repair and servicing of marine facilities, including support for renewable energy such as offshore wind farm and tidal devices; and navigational mark servicing and response.
Skilled and competent crew
The Workboat Crew Member Apprenticeship with UKSA and Williams Shipping takes up to 2 years to complete, starting with a 4-week residential training course at UKSA on the Isle of Wight.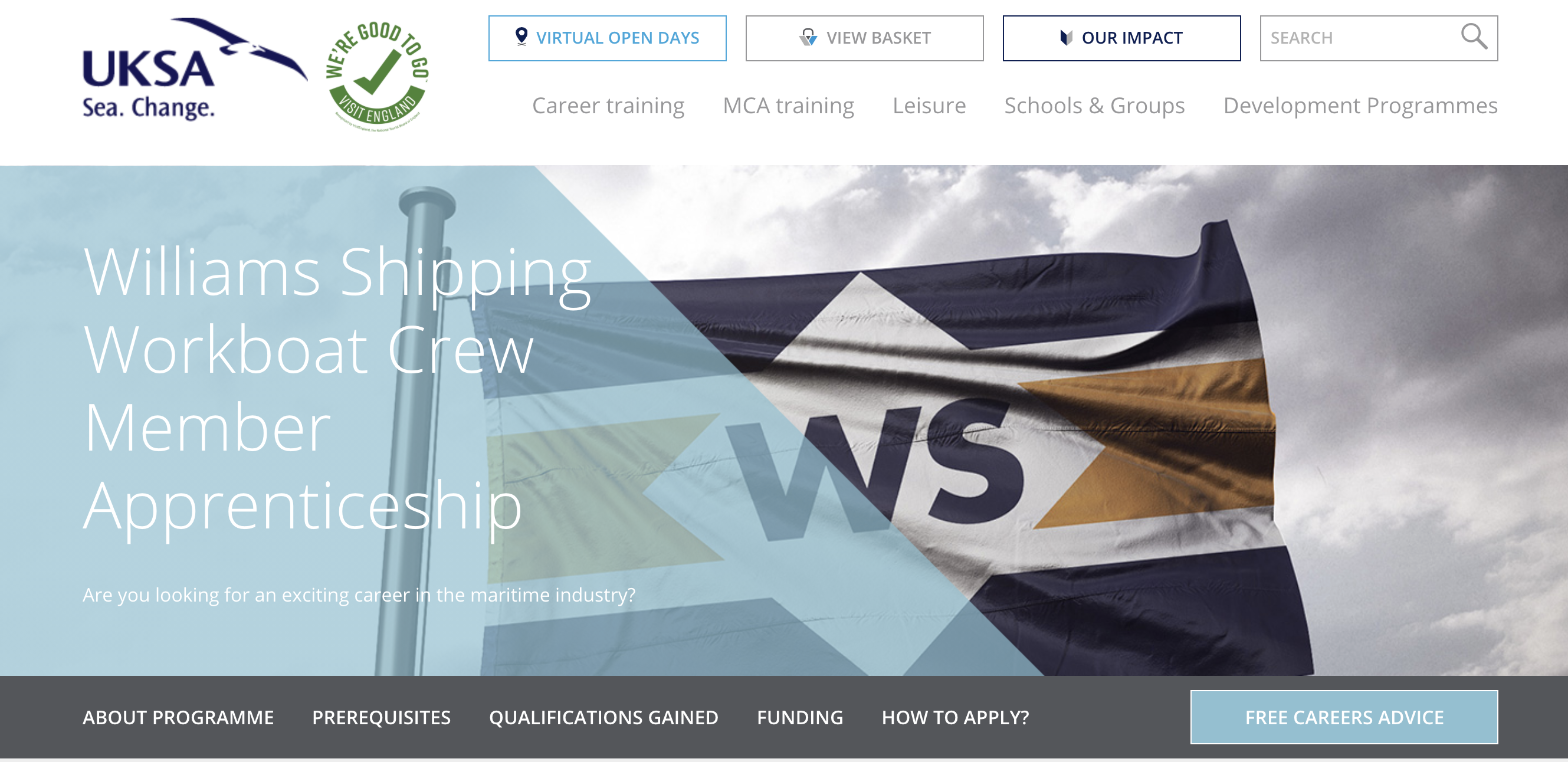 Our apprentices have been thrown into long days of training from the outset, and have already gained RYA Powerboat Level 2 and VHF Short-Range Radio certificates in addition to the core STCW short courses: First Aid at Sea, Sea Survival (PST), Fire Fighting, and Personal Safety and Social Responsibility. Over the duration of the course they will start to gain the knowledge, skills and competence to work as part of an efficient team carrying out a variety of tasks, including:
Communications
Risk assessment
Navigation and vessel handling
Berthing
Towing operations
Anchor handling
Personnel transfers
Cargo handling
Practical training with Williams Shipping
After their initial training on the Isle of Wight, Jamie and Osian will return to Pembrokeshire and start their practical training on Williams Shipping's workboats. The course continues with rotations between training at UKSA and work in Pembroke, which should give these apprentices the experience they need of the variety of operations carried out at sea.
A career at sea
Both apprentices are enjoying their training on the Isle of Wight, though they are working hard and with long days. Jamie has some experience at sea, having fished for many years from boats around the Pembrokeshire coast, whilst Osian has always wanted to work on the water – growing up fishing and boating with his brother, and volunteering for many years with the Sea Cadets and as a shore team member with Fishguard RNLI. For both, it is a challenge and a pleasure to be building on their experience and learning new skills.
I have a strong love for the sea, and this apprenticeship is allowing me to gain skills that will hopefully secure my career at sea.
Osian Lewis – Apprentice
Jamie, too, is growing in confidence and grateful to Williams Shipping for giving him the chance to find a new career.
Once I put on my dark blue Williams Shipping uniform I knew I was part of an excellent and supportive team, and I am keen to put my new skills to use back in Pembroke Port.
Jamie Gainfort – Apprentice
Bright Future
The National Workboat Association finalised details of its Apprenticeship Scheme in 2018 and Williams Shipping now works with training provider UKSA to deliver the Workboat Crew Member Apprenticeship. We believe it is essential to recruit apprentices locally, and give them the opportunity to develop their skills and provide essential marine services from our bases for many years to come.
Four apprentices have started the scheme with Williams Shipping in 2021, including one based in Southampton and another on the Isle of Wight. Osian and Jamie will be based in Pembroke, helping satisfy the demand for experienced crews to support the huge investment in tidal energy and floating wind projects under development in and operated from Pembroke Dock, Milford Haven and its approaches.
We are really proud of these enthusiastic workboat apprentices who have already shown they have an appetite to work hard, learn new skills and take on the responsibilities of working at sea as part of a skilled vessel crew. We are sure they will be great members of our team, and look forward to working with them long into the future. Good luck Osian and Jamie!
Philip Williams, Managing Director – Marine at Williams Shipping
Contact Williams Shipping to find out more about our Apprenticeships in Pembroke by calling 01646 684169 or email lmarine@williams-shipping.co.uk.
Williams Shipping assists the UK's marine industries with a broad range of services including towage, craneage, stores deliveries, equipment hire and crew transfer. We operate a fleet of 27 workboats, launches and barges, including dedicated wind turbine blade vessels. From our headquarters in Southampton and bases in Milford Haven and Aberdeen we provide specialist services and expertise to the transport, marine, construction, engineering, defence, renewable energy and shipping industries.