Williams Shipping brings Terra Marique to shore
The challenge
To transport heavy components unsuitable for road haulage from the decommissioned Murco refinery to Pembroke Port for onward delivery abroad.
How did we help?
We provided powerful tugs with shallow draft to manoeuvre specialised cargo barge Terra Marique as close to the beach as possible to facilitate loading direct from the shore.
What equipment was deployed?
We tasked WILANNE, our powerful Damen Stantug 1605 drawing 2.25m, to manoeuvre the Terra Marique with assistance from our Meercat RT15 WILTANGO, able to operate very close to shore with just 0.8m draft.
The whole story
Williams Shipping is delighted to solve marine logistics challenges by working with specialist vessels such as Terra Marique, which combines state-of-the-art technology with traditional marine and heavy transport engineering. Terra Marique has a specially strengthened hull to allow her to beach land with minimal site preparation, facilitating direct delivery and collection from coastal and waterway sites. Her interior hold [K1] [VW2] is capable of transporting trailers of heavy equipment without the need for intermediate transfer.
Since the former Murco oil refinery at Milford Haven was decommissioned in 2014 work has continued to convert the site to a petroleum storage and distribution depot. Much of the dismantled refinery has been transported by road to Pembroke Port for export to Pakistan, where it is to be rebuilt. Williams Shipping was able to provide marine transport for those larger components that could not be delivered to export vessel jetties by road.
The first stage of the job was to tow Terra Marique from Portland to the Pembroke Dock Waterway in South Wales. WILLPOWER, our 2000hp Damen Stantug 2207, was deployed for this trip, a journey of 240 nautical miles.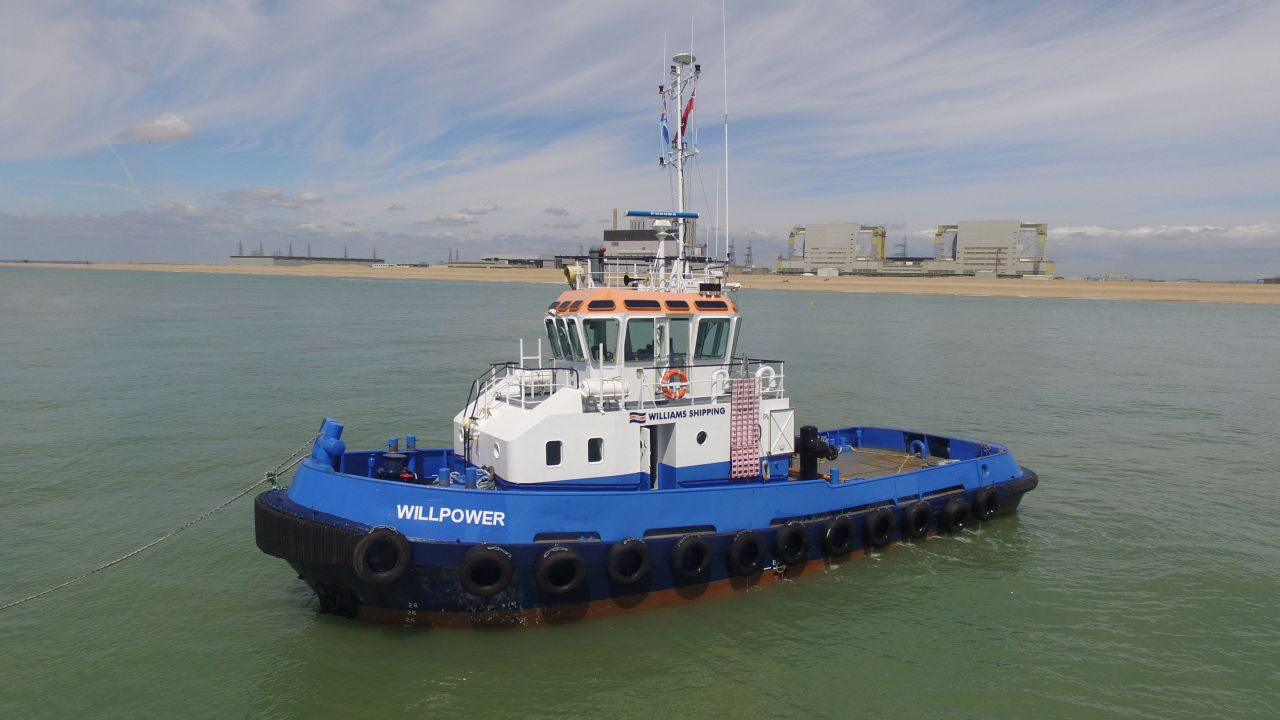 We then switched to our smaller shallow draft tugs to position Terra Marique in Gelliswick Bay, a sheltered sand and shingle bay close to Milford Haven. The heavy loads were then rolled out of the former refinery on self-propelled modular transporters (SPMTs), taking a private access road on to the prepared roadway constructed on the beach, and onto the cargo deck of Terra Marique.
Once loaded, our vessels towed Terra Marique to Pembroke Port, where the cargo was discharged onto the quay. Williams Shipping's vessels made a total of six barge journeys between Gelliswick Bay and Pembroke Port, where the loads were transferred to the SAL Regine heavy lift ship for the export voyage to Pakistan.
Williams Shipping assists the UK's marine industries with a broad range of services including towage, craneage, stores deliveries, equipment hire and crew transfer. We operate a fleet of 27 workboats, launches and barges, including dedicated wind turbine blade vessels. From our headquarters in Southampton and bases in Milford Haven and Aberdeen we provide specialist services and expertise to the transport, marine, construction, engineering, defence, renewable energy and shipping industries.
For more information please call 023 8052 9555 or email transport@williams-shipping.co.uk.