Williams Shipping supports revolutionary wave energy project
The challenge
To provide towage for a prototype wave energy test device including navigating the shallow approach channel at Ledwood Quay.
How did we help?
Williams Shipping is the only marine contractor based in Milford Haven able to supply small tugs with sufficiently shallow draft to provide this service.
What equipment was deployed?
Damen Stantug 1605 WILANNE was deployed to collect the device from the fabricators and tow it safely to Milford Docks, to await onwards towage to Falmouth.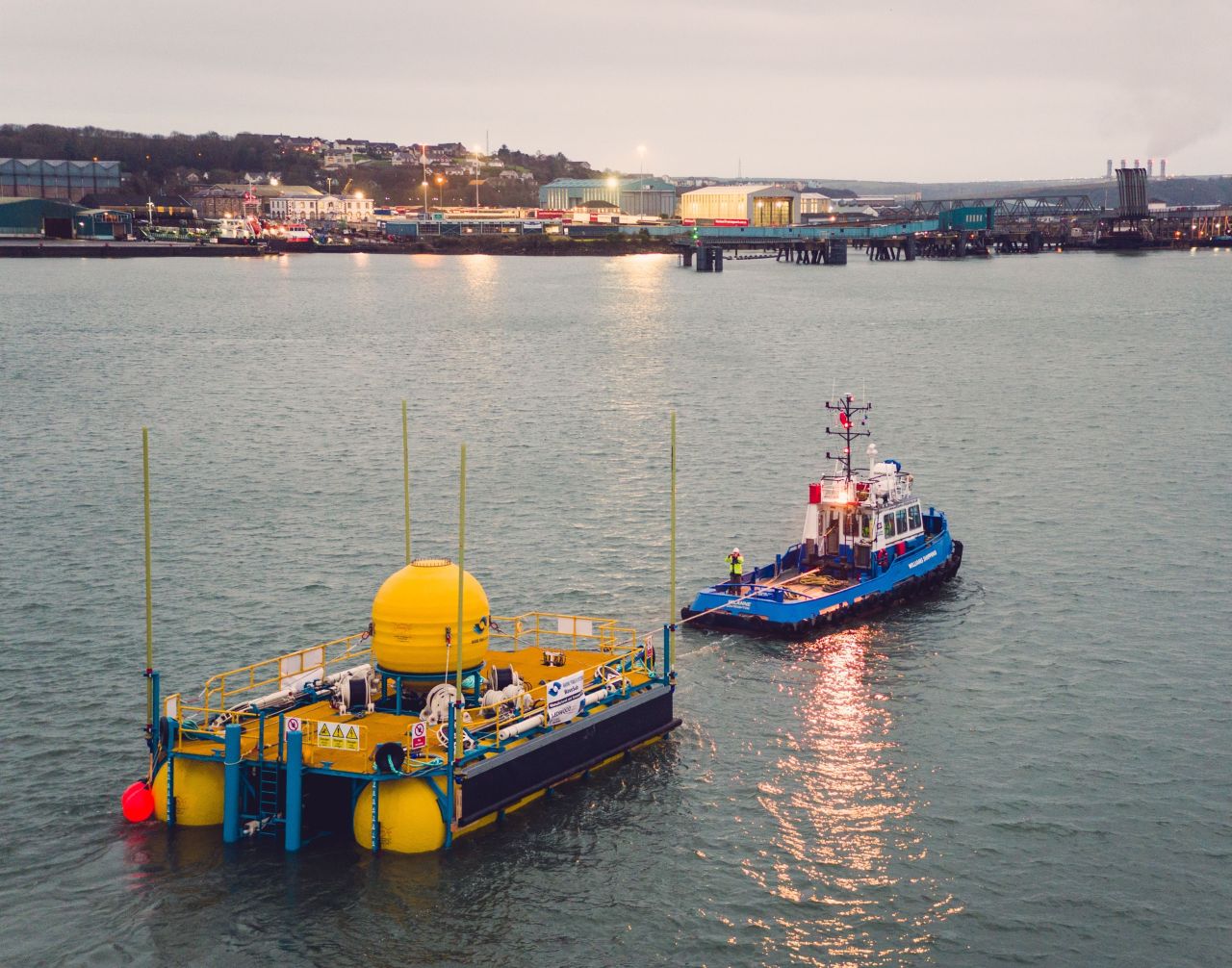 The whole story
There is enough energy in the oceans to power the entire planet, yet this vast resource has barely been tapped. Marine Power Systems  (MPS) is working on a revolutionary wave energy converter that can harness the entire orbital motion of waves for maximum efficiency.
The WaveSub device is designed to be transported under tow rather than using dedicated vessels, then linked to moorings and power cables on the seabed. It automatically deploys to an optimum operating position to capture energy and can move to the surface for maintenance.
Fabricators Ledwood Mechanical Engineering built the test device at their workshop at Ledford Quay at the eastern end of Milford Haven Waterway. The finished quarter-scale WaveSub (15 metres long, 10 metres wide and 2.5metres tall) had to be moved through the shallow channel at Ledford Quay to Milford Docks, from where it would be towed to Cornwall for year-long sea tests.
Williams Shipping is well placed to offer services in this area from our base in Pembroke Dock, Milford Haven. Our extensive fleet of marine vessels includes shallow draft vessels. WILANNE negotiated the shallow approach channel at night and the WaveSub device was loaded by crane from the jetty in a smooth operation.
Development of WaveSub
In 2008 MPS was formed to develop WaveSub following detailed research into wave energy extraction. Further development and testing continued with European funding and support from the Welsh Government, leading to the commissioning of a 1:4 scale prototype for sea testing.
Williams Shipping provided the first, vital tow to Milford Haven, from where WaveSub undertook a 169 nautical mile journey to the FaBTest marine test centre in Falmouth, Cornwall. The successful overall tow proved that the device can be towed significant distances from a manufacturing base to a wave farm location with small specialist vessels, a key innovation.
We are grateful to Williams Shipping for providing the crucial first link in our transport chain for our world-leading WaveSub wave energy converter. It is vital to UK industry that fabricators and developers have clear supply routes, and without low-draft tugs at the outset this journey would have been significantly more expensive.
MPS CEO Dr Gareth Stockman
MPS has now successfully concluded the year-long programme of sea testing. The quarter-scale device was able to generate zero-carbon electricity from ocean waves, paving the way for MPS to progress with the design, manufacture and testing of a full-scale version of the WaveSub.
We are delighted to have been able to play a part in this innovative project. As a multi-disciplined marine logistics organisation, we are extremely environmentally conscious, so are proud to support Marine Power Systems in their quest to supply renewable energy for Britain.
Philip Williams, Managing Director at Williams Shipping Marine. 
Williams Shipping assists the UK's marine industries with a broad range of services including towage, craneage, stores deliveries, equipment hire and crew transfer. We operate a fleet of 27 workboats, launches and barges, including dedicated wind turbine blade vessels. From our headquarters in Southampton and bases in Milford Haven and Aberdeen we provide specialist services and expertise to the transport, marine, construction, engineering, defence, renewable energy and shipping industries.
For more information please call 023 8052 9555 or email transport@williams-shipping.co.uk.