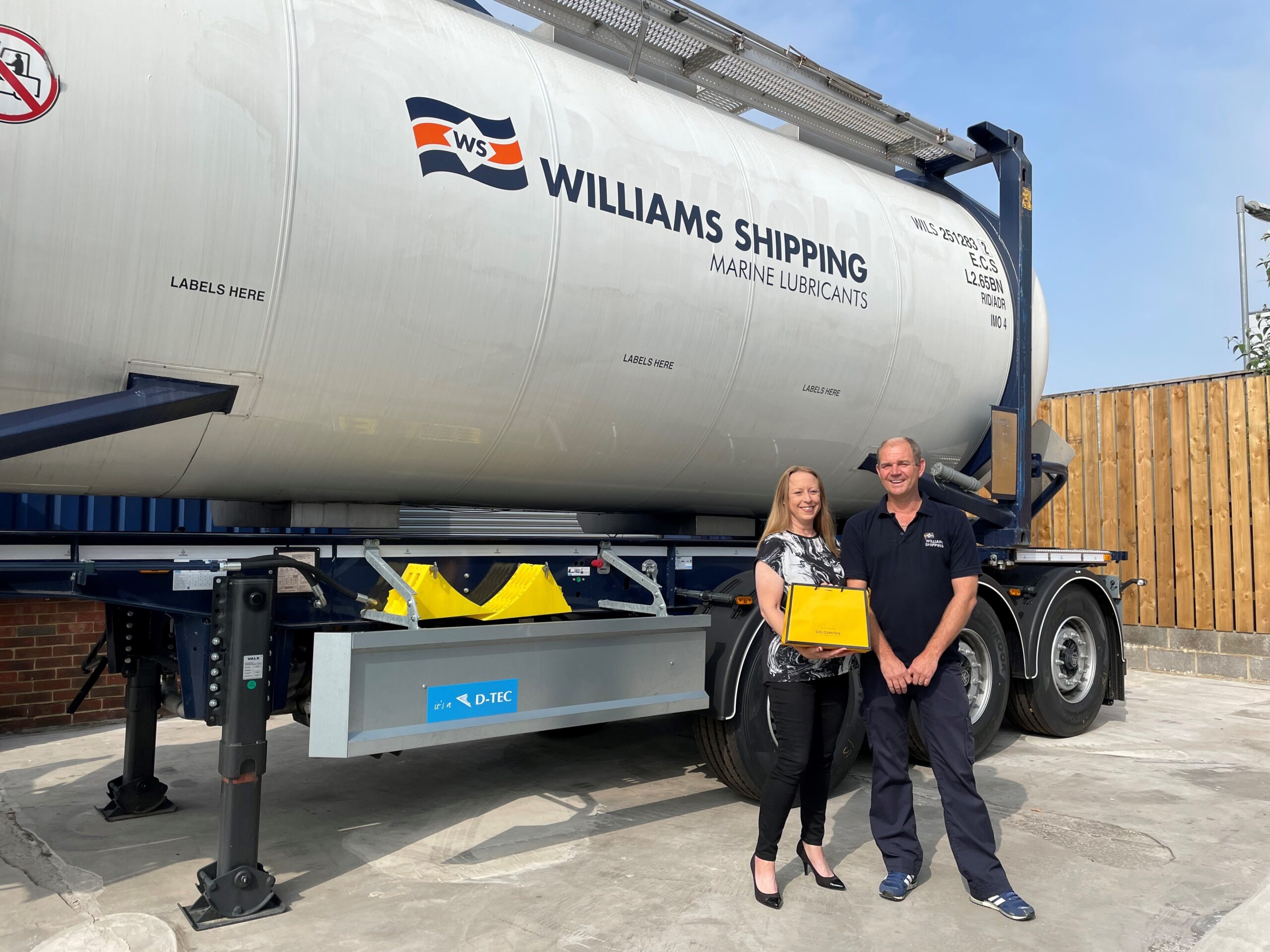 15th July 2021
Donna celebrates 25 years in good company at Williams Shipping
Having joined straight from school, Donna Wright has seen many changes at Williams Shipping – successive generations of the Williams family have worked to build a bigger, stronger business whilst also nurturing a loyal and experienced workforce.
I still love my job after 25 years. I thrive on the daily challenges and the friendly atmosphere – and of course it helps that my husband works here too!

Learning on the job
Donna always wanted to work in business administration, and came across Williams Shipping through the local Chamber of Commerce. She joined in 1996 under a Youth Training scheme that provided on-the-job training and allowed her to complete a Business Administration qualification on day release to college.
The scheme gave her the opportunity to experience different departments, including the small container side of the business which she ran for many years and which then flourished to become Willbox. But it was when Ray Harris left the Marine lubricants arm of Williams Shipping that Donna found her ideal job, taking over responsibility for delivering lube oil to vessels.
Lubricant logistics
At the time, the business worked solely on behalf of major oil suppliers to deliver the product to the customer, wherever they might be. Gradually, Williams Shipping began to buy in lubricants to sell to their own customers, and Donna's order book grew from a sheet of A4 paper to the six million pound turnover it enjoys today.
"It's an interesting job," says Donna, now Customer Services Manager for Marine lubricants. "The logistical challenge keeps me on my toes – I speak to agents on a daily basis to ascertain when vessels are due to berth and sail and ensure customer orders are delivered on time. There is a lot of transport planning to ensure that deliveries are co-ordinated effectively, and since Williams Shipping is a 24/7 business with great customer service we are always ready to work things out at short notice."
We never say no!

Experienced Lubricants team
The lubricants team has now grown to seven dedicated office staff and works closely with Williams Shipping's logistics arm who supply the warehousing and delivery service, to a large customer base across the UK and Europe. The resale and distribution sides of the business work comfortably hand in hand. Despite the challenges of coronavirus the team has continued to work effectively and relationships within the company are as strong as ever. "I enjoyed my job from day one," confirms Donna, "partly because it is such a friendly and supportive company. I know I could walk across to talk to a Director if I had any problems, and they really take the trouble to make us feel welcome and respected."
Taking care of our staff
Clearly Donna's enthusiasm for Williams Shipping is contagious, since she met her husband Darren at the company at a young age and he, too, has remained with the company. The couple have been together for 24 years, during which Darren mostly worked on Williams' vessels so was often away from home.
Now he has taken a shore-based job as Marine Superintendent at the marine base in Southampton, whilst Donna continues to work at the group's Head Office in Millbrook. "It's great to have more free time together, though probably just as well we are based at different offices!" she jokes. "Williams Shipping have been very good to us and it feels as though they really care about their staff – that's really valuable."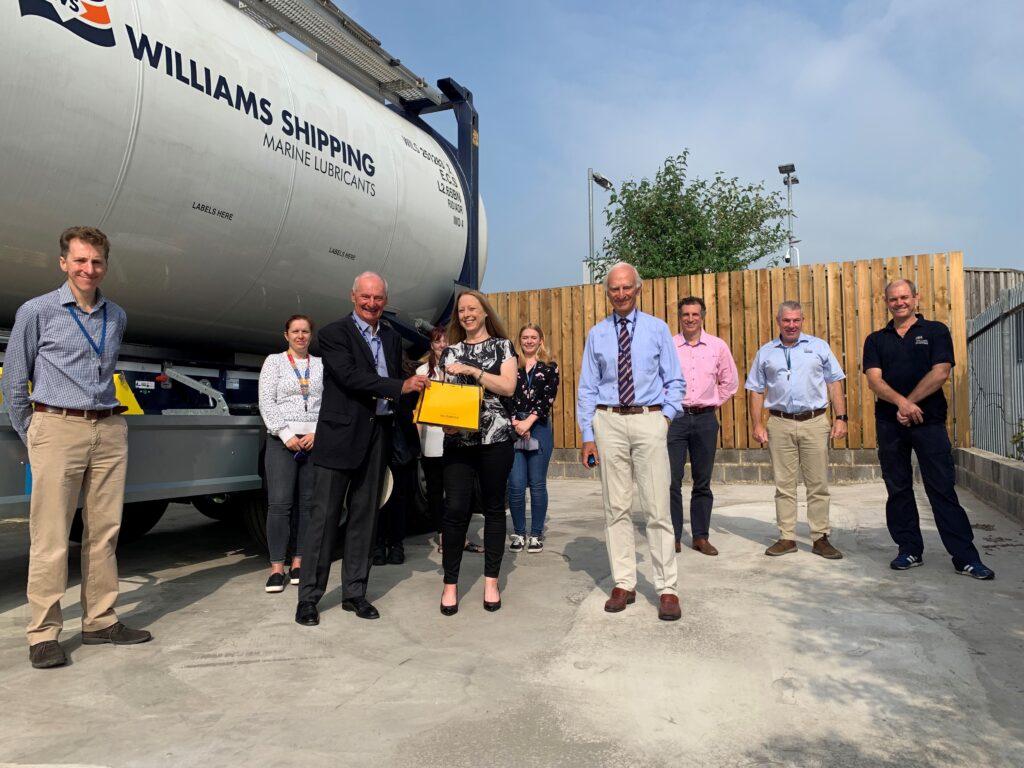 Congratulations
Jonathan Williams, Managing Director – Logistics said Williams Shipping is lucky to have the support of such experienced staff.
For 25 years Donna has been a loyal, reliable and cheerful member of our team, always giving her best and rising to any challenge we throw at her. Thank you, Donna – we hope you will continue to share your drive and expertise for many years to come!
Jonathan Williams
Colin Williams presented Donna with a gift in front of the whole office team, followed by photos in the yard in front of the company's new bulk lubricants tanker.
For more information, contact Williams Shipping at 023 8052 2163 or email lubricants@williams-shipping.co.uk.
Williams Shipping assists the UK's marine industries with a broad range of services including towage, craneage, stores deliveries, equipment hire and crew transfer. We operate a fleet of 27 workboats, launches and barges, including dedicated wind turbine blade vessels. From our headquarters in Southampton and bases in Milford Haven and Aberdeen we provide specialist services and expertise to the transport, marine, construction, engineering, defence, renewable energy and shipping industries.