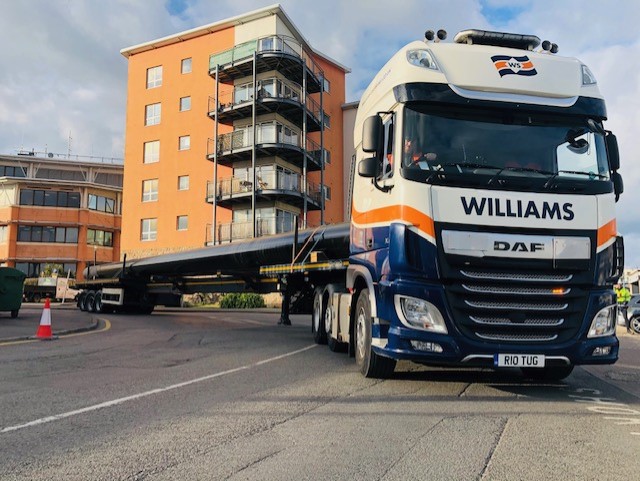 17th December 2021
Our longest load of 2021
As we come to the end of 2021, we can look back at a year full of challenges and achievements. As the country began to recover from the pandemic, this year brought us a lot of lessons in ensuring the transportation of heavy and abnormal loads abides by changing regulations whilst maintaining the utmost care and safety in delivery.
One particular job this year comes to mind which encompasses these challenges, our expertise in this industry and our willingness to complete complex projects for our customers. 
The task 
In April 2021, we were asked to plan and execute the delivery of multiple long, heavy piles across England and over to Jersey. The project required the handling and delivery of fifteen 30-meter-long steel piles from Falmouth, Cornwall to St. Helier in Jersey.
We agreed a fixed schedule with project leader Geomarine, who had begun a £5 million project to regenerate and upgrade the facilities at St Helier Harbour. This included the construction of new 24-hour access berthing pontoons alongside the Albert Pier. The piles, manufactured by Fugro in Cornwall, will be part of a dock, large enough to accommodate super yachts.
Our task started by splitting the piles into 8 loads which we picked up in Cornwall. Then we had to successfully deliver them in a series of convoys to meet the agreed construction demands. All this with a stop in Southampton so that the piles could be refurbished.
300 road miles
Each load weighed 10 tonnes. This presented logistical challenges in loading and unloading. By sticking to our mantra of "no load is too large or abnormal for our teams to handle", our expert successfully loaded each truck and began their 300 mile trip, across 6 counties before crossing 150 nautical miles on ferry.
This was a huge team effort, requiring expertise in route-planning and site surveys to establish feasibility; securing official clearances; haulage of long loads with the provision of transport escorts and responsible management in case of potential risks. Once the accurate route plan was put together and the escorts arranged, we were able to start the move. Two loads onto each STGO truck and power steering, extendible trailer, travelled in pairs to Jersey under the supervision of a logistics expert.
The piles were first collected from Falmouth, Cornwall, and transported to Solent Protective Coatings in Southampton for finishing. When we picked them up they were completely rusted over. At Solent Protective Coating, they did an incredible job of refurbishing the piles into the pristine and sleek black pillars that are stood in Jersey today. This was a complicated, but necessary strand to the overall journey. Like many places during this project, this Southampton site is physically restricted. The specific delivery team was selected to ensure a high level of experience in manoeuvring in tight spaces.
The finished piles were then loaded and driven to Portsmouth Ferry Terminal. Williams Shipping checked compliance with Condor Ferry's strict passenger and vehicle size limits for each of the four ferry trips. We also worked around reduced sailings due to COVID-19, and the potential problems of disembarkation with long loads at various states of tide.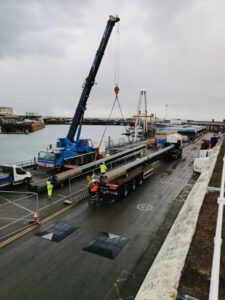 The job was planned whilst the UK was in a lockdown, and Jersey had its own rules and regulations at the time. Extra care and due diligence was needed to ensure all measures were in place for a safe trip. At the time, we were not normally allowed to send drivers to Jersey. We needed special permission from the authorities to deliver the piles. All the documentation was in place to allow the move and the port in Jersey was heavily policed to ensure everyone complied with the regulations
150 nautical miles
On arrival in Jersey no escort was required because the short journey was by private road. Limited traffic management, including the removal of some street furniture to permit tight turns, had been pre-arranged, so delivery to the quayside ran smoothly.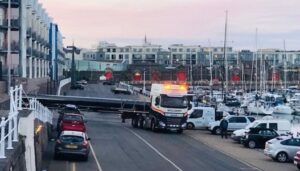 Nevertheless, this unusual sight brought interested onlookers to watch the trucks arrive and see the long piles unloaded. We used a mobile crane and stacked them onto the jacking barge ready for planting in the seabed. 
Onlookers were interested to know what we were doing and how we managed such a difficult load. It was lovely to chat to them and made me realise that what is all in a day's work for us is in fact a complex operation. We have the skill to make it look simple.
David Nightingale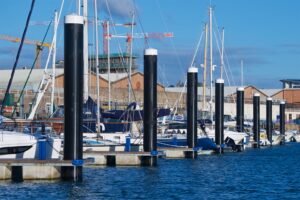 For more information on our projects, or if you are after a similar solution, contact Williams Shipping on 023 8052 9555 or email transport@williams-shipping.co.uk.